Cindy O'Brien (Founder and Managing Director)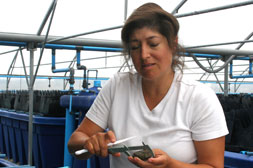 Cindy manages the day-to-day operations of the farm. She has over 20 years experience working in aquaculture, starting with a B.Sc. in Marine Biology from California State University at Long Beach in 1988. She also worked for 6 years at the University of Miami's experimental fish hatchery, where she raised different species of fish larvae i.e. yellowtail snapper, red snapper, rockhinds, redhinds, Grasbys and neon gobies for vertical migration experiments, enzyme activity analyses and re-stocking projects in Biscayne Bay. Since coming to Ireland in 1996 she has patiently built up Connemara Abalone as a boutique producer of premium abalone, using only the best technology and procedures in every facet of the farm operation.
Cindy is also an accomplished cook, and frequently includes her own abalone in her dishes. She has personally cooked and customized to her own taste all the dishes in our "recipes" section.
About her farm, Cindy says: "Abalone have always seemed to me to be obvious candidates to be farmed in on-shore aquaculture systems, because of their biological characteristics and high value. We have the perfect conditions for raising abalone here on our farm in Galway. With their natural food, pure water and controlled conditions, our abalone have a premium quality that is second to none. I take great pride in proving that to our customers every day."