Abalone Chowder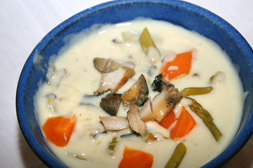 Ingredients
12 60-70mm abalone cooked in wine and sliced or chopped into pieces
1 onion, diced
2 carrots, diced
A bunch of asparagus spears; cut in diagonal pieces
2 cups of dry white wine
4 cups of milk
1 cup fish stock; from recipe above
1 small onion; roughly chopped
4 whole peppercorns
1 bay leaf
5 Tbls butter
5 Tbls plain flour
Wedges of lemon to garnish
Instructions
Place the onion, carrots and asparagus in a pan with the wine until just covered. Cover and simmer gently for about 5 minutes or until vegetables are just tender. Take off the heat and set aside.
Make a béchamel sauce base for the soup by warming the milk in a pan with the onion, peppercorns and bay leaf. Heat through until just coming to the boil. Remove from the heat.
In a separate pan, melt the butter till bubbling and then add the flour to make a roux. Remove from the heat and strain the béchamel sauce through a sieve into the roux mixture stirring continuously until the mixture is smoothe. Return the mixture to a gentle heat and simmer until the sauce has thickened, stirring constantly. This should take approximately 5 minutes. Add the fish stock and vegetable liquid to the mixture.
Add the cooked vegetables into the sauce. Gently stir in the slow cooked abalone pieces and cook over low heat to heat through. Ladle into warm bowls and garnish with lemon wedges. Serve with a crusty rustic bread or brown bread.