Abalone with scallions, ginger and ponzu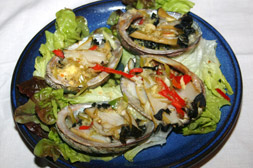 Ingredients
For ponzu
1 Tbls mirin
1 Tbls rice wine vinegar
1 1/2 Tbls fresh squeezed lemon juice
2 Tbls soy sauce
Instructions for ponzu
Place the mirin in a small sauté pan and heat over low heat. Ignite it with a fire starter or long match and flambé to burn off the alcohol. Let it cool slightly.
Combine the mirin, vinegar, lemon juice and soy sauce in a small bowl and set aside.
For the Abalone
2 large fresh abalone, sliced very thin
1 cup boiling water
3 Tbls extra virgin olive oil
1/2 cup green onion julienne strips
1/4 cup peeled and finely julienned fresh ginger
Sea salt
Fresh ground black pepper
2 Tbls ponzu
Instructions for abalone
Place the sliced abalone in a strainer over a bowl so that the slices do not overlap. Slowly pour the boiling water over the abalone to quickly cook.
Arrange the abalone slices on two plates.
Warm the oil in a sauté pan ( do not heat it to smoking) and quickly cook the green onion and ginger for about 5 seconds, season with salt and pepper. Remove the ginger and onion from the pan and evenly distribute over the abalone slices.
Drizzle the ponzu over the ginger and scallion mixture and serve with a salad as an appetizer or with steamed rice or noodles as a main course.